Get out of your seat and LEARN ON YOUR FEET with Carol Glynn's video lesson guide!
Carol Out Of The Box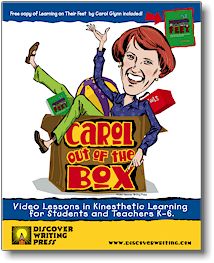 Video Lessons in Kinesthetic Learning
For Students and Teachers K-6
See Carol in action (Quicktime Video)
Don't teach the state standards — Slam Dunk Them! Brain research shows that students grasp concepts more readily and thoroughly when structured movement is part of the lesson. But body - based learning activities can be intimidating for classroom teachers. How do we get kids moving and learning in joyous and inclusive movement exercises without losing control or focus? Let Carol Glynn show you how!
Kinesthetic learning expert Carol Glynn's new resource videos, CAROL OUT OF THE BOX, offer practical and fun classroom-tested strategies for teaching core curricula using movement-based instruction. Taped during real elementary classroom lessons, this set of four videos brings Carol right into your classroom getting your students moving through the curriculum in effective and manageable structured movement activities. Carol's demonstration lessons can be used for both primary instruction and supplementary activities. Either way, her creative methods add pizzazz and depth to any content area!
Included with the videos is Carol's popular book, LEARNING ON THEIR Feet: A Sourcebook for Kinesthetic Learning Across the Curriculum, K-8 (300 pgs). This teacher-friendly guide is the first comprehensive resource on teaching body -based learning in four curriculum areas: Social Studies, Science, Math and Language Arts. Correlated with the video lessons, this dynamic sourcebook gives teachers K-8 a slew of practical, movement-based instructional techniques to lead students out of their seats and get them learning on their feet!
TAPE 1: INGREDIENT GAMES
Ingredient games are lesson frameworks disguised as games that can be adapted to any subject area. Fun to play in their own right, these dramatic movement games will attract and keep the attention of the whole class, encouraging them to work as a team, while offering a challenge for all learners. Once the games themselves are mastered, students will be begging to play them again in a variety of subjects.
TAPE 2: MORE INGREDIENT GAMES AND WARM-UPS
Tape two offers some of Carol's all-time favorite ingredient games, including Swoosh! And Fashion Show! Warm-Ups and Cool-Downs help students transition between exercises, kinesthetic and otherwise. Warm-Ups help to bring students into the room from wherever their thoughts have taken them. The slower paced, thoughtful Cool-Downs offer the bridge to follow up seated activities.

TAPE 3: Math and science on your feet
Who says math isn't dramatic, or that science needs to be a sedentary subject? The drills required in math, and the organized structures of scientific and mathematical concepts, make them perfect subjects for Carol's Out of he Box strategies. In Tape Three, Carol offers specific activities for all age groups to help teach the required math and science curriculum. From habitats to trees and hearts, simple patterns to prime numbers, Carol Glynn shows you and your students how to learn by becoming the curriculum.
TAPE 4: Social Studies and Language Arts
Students don't need to sit in a chair to learn. In fact, student will often grasp concepts more easily if they can learn the curriculum using their whole body. Lessons in Carol's fourth tape offer you ideas to put Social Studies and Language Arts on their feet, from memorized list learning to political and literary concepts. Act out stories, settings and characters, legends and historical moments in a creative, productive way. Students learn easily and remember longer any lesson they've learned using their entire body and all of their multiple intelligences.
"Thank you again for an extraordinary experience! There was not one game, activity or exercise you taught us that I cannot take back and immediately use in my classroom!"
Linda Chase, New Boston Central School, New Hampshire

Biography • Performances • Seminars •
Carol's Book: Learning On Their Feet •
Carol's Video Set: Carol Out Of The Box •
Comments on Workshops and Productions •
Comments on Keynotes and Seminars •
Reference Sheet • Links • Fees