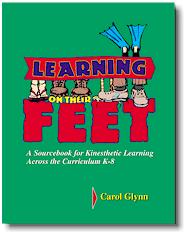 Learning on Their Feet
A Sourcebook for Kinesthetic Learning Across the Curriculum K-8
By Carol Glynn
Discover Writing Press
(www.discoverwriting.com)
Hey Kids… Get out of your seat and LEARN ON YOUR FEET!
Research shows students grasp concepts and remember more when they get out of their seats and move through a lesson. Yet many students and teachers still sit behind heavy desks, increasingly weighed down by the latest state standards. If only teachers had a practical resource for teaching mandated curriculum in a dynamic way that involves all their students and creates a joyous, inclusive classroom environment, while at the same time nailing those state standards.
Now they do. Learning on Their Feet: a Sourcebook for Kinesthetic Learning Across the Curriculum K-8 is the first comprehensive resource on teaching body-based learning in four curriculum areas: Social Studies, Science, Math and Language Arts. As user-friendly as it is all encompassing, this dynamic sourcebook will give teachers K-8 a slew of practical lessons to lead their students out of their seats and into their smart bodies of knowledge.
Lessons Include:
* Finding your own comfort zone as a kinesthetic teacher
* Teaching the basic skills, like Math facts and History dates the fun way.
* Dynamic activities that level the playing field for all students
* Writing and performing funny plays that use student research
* Learning about the American Revolution from the inside out
* Conceptualizing place value through drama
* Exploring the Rain Forest ecosystem through living statues
* Chant Dancing your way through the life cycle of the butterfly
* Personifying Gods and Goddesses via game shows
* Acting out the parts of a tree
* Dramatizing photosynthesis, digestion, and the circulatory system
* Holding tall tale exaggeration contests
* Acting out any story, concept, or event with a manageable structure
* Becoming Dr. Vocabulary, and discovering new words in extraordinary places
* Helping a sleeping Jefferson write the Declaration of Independence
* Play "Passing the Bill" game while learning about the democratic process
* Improvising your way into persuasive writing
* Personifying any object or person to help comprehend it's point of view
* Learning about writing transitions by playing transition ball and much, much more!
Biography • Performances • Seminars •
Carol's Book: Learning On Their Feet •
Carol's Video Set: Carol Out Of The Box •
Comments on Workshops and Productions •
Comments on Keynotes and Seminars •
Reference Sheet • Links • Fees